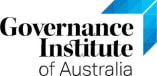 Governance Institute Of Australia
Governance Institute Of Australia
Læs den officielle beskrivelse
Governance Institute Of Australia er en af Australiens ældste brancheforeninger, der blev grundlagt for 110 år siden. Som Australiens førende uafhængige stemme om regeringsførelse er Governance Institute Of Australia en aktiv deltager i reformprocessen. Vi samarbejder med regeringen og offentlige sektorgrupper for at bidrage med vores ekspertise om foreslået lovgivnings- og reguleringsreform og bidrage til den nationale diskussion om god regeringsførelse.
Et af vores vigtigste opfordringsmandater er at forbedre regeringsførelsespraksis over hele landet, og dette inkluderer forbedring af standarden for rapportering om styring af Australiens journalister. Vi bidrager med vores egen analyse og kommentar til branchespørgsmål for at hjælpe med at føre diskussionen om bedste praksis for corporate governance.
Placeringer
Sydney
Address
Hunter Street,5
2000
Sydney
,
New South Wales
,
Australien
Programmer
Øjeblikket ingen programmer til at vise
Venligst specificer søgning ovenfor, tjek vores populære kategorier nedenfor eller udføre en søgning på nøgleord.
... or simply by choosing your degree: